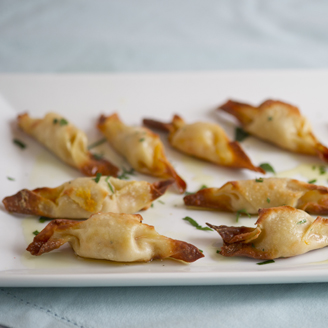 Lucini's premium extra virgin olive oil, which you can
find in our online store
, is the best extra virgin olive oil for cooking available. When you combine it with other key ingredients such as honey, parmesan cheese and, of course, butternut squash, all the rich flavors come to life and provide for a sensory experience in the form of Bocconcini of Roasted Butternut Squash dish.
Recipe Summary
Recipe Servings: 6 portionsRecipe Preparation Time: 90 minutesRecipe Cook Time: 20 minutes
Ingredients
1 medium butternut squash (about 2 pounds, ends removed and seeded)6 Amaretti cookies1 tablespoon honey1 cup freshly grated Parmesan cheese2 large eggs1 medium onion, peeled and finely chopped2 tablespoons
Lucini® Extra Virgin Olive Oil
Salt and freshly ground black pepper1 package square wonton skins, thawed if frozen
Lucini® Founders Reserve Premium Select Olive Oil
, for servingFresh parsley, for serving
Instructions
Preheat oven to 400 degrees. In a roasting pan, put squash halves cut side up and drizzle with extra virgin olive oil. Sprinkle with salt and pepper. Roast for about 45 minutes until soft. While squash is roasting, sauté the onion and garlic in the extra virgin olive oil over medium heat, until transparent, but not brown. Reserve. When squash is done, pull from the oven and allow to cool for 15 minutes. Scrape its pulp into a food processor. Add Amaretti cookies, eggs, honey, Parmesan, onion and garlic. Season with a touch of salt and pepper. Process on pulse until smooth but still textured.Take one wonton square and place one tablespoon of squash mixture in center. Roll toward the center. Twist ends to seal and place on lightly oiled baking sheet. Continue this process until mixture is depleted. Brush each bite with the extra virgin olive oil. Bake at 400 degrees until lightly toasted for about 20 minutes. Serve with a drizzle of Founders Reserve and a sprinke of parsley.