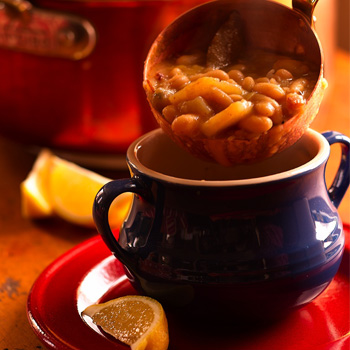 At Lucini Italia Co., we are committed to honoring the traditions of Italy, through a selection of the finest products like organic extra virgin olive oil. We're proud to carry handcrafted sauces, artisan vinegar and vinaigrettes, and gourmet olive oil to help you take your cooking to the next level. Lucini loves sharing authentic recipes that are sure to delight. Soup is classic comfort food, and with the addition of an Indian touch, bean soup can become a gourmet dish.
We love this bean soup which combines classic ingredients such as organic extra virgin olive oil with Indian flavors like cinnamon and clove. We invite you to browse our
online shop
for the best gourmet olive oil to include in your dish.
Comfort Food With An Indian Touch
Whether you're looking for a unique soup to warm up on a chilly day or planning for your weeknight meals, this bean soup made with Whole30 extra virgin olive oil is sure to please. Infused with flavorful ingredients like garlic clove, parsnip, bacon, and red chile, this hearty soup not only packs a punch of Indian flavor, it also satisfies. See details below!
Recipe Summary
Ingredients
5 cups water, plus 1 cup for splashing pot1/4 cup Lucini® Premium Select Extra Virgin Olive Oil®10 black peppercorns8 whole cloves4 dried bay leaves4 dried red chiles1-inch piece cinnamon stick2 large red onions, chopped2 tablespoons kosher salt1/2 pound thick-cut bacon, finely chopped2 medium parsnips, peeled and sliced into rounds5 garlic cloves, roughly chopped2 cups dried cannellini beans soaked in cool water overnight and drained (if using canned beans see note)12 scallions, white and light green part only, thinly slicedPinch asafetida (optional)Lemon wedges for serving
Instructions
Place 1 cup of water next to your stove top. Heat the olive oil with the peppercorns, cloves, bay leaves, red chiles and cinnamon in a large pot over medium-high heat until the cinnamon unfurls, about 2 to 3 minutes. Add the onions and salt and cook until the onions are soft and browned, about 6 to 8 minutes, stirring occasionally. Stir in the bacon, parsnips and garlic and cook until the onions are deeply brown, about 10 minutes longer. Stir often, splashing the pot with water (you may not need the full cup) and scraping browned bits from the bottom of the pot if the onions or bacon begin to stick. Add the cannellini beans, scallions and asafetida (if using) and cook for 2 minutes. Pour in 5 cups of water and bring to a boil. Reduce the heat to a gentle simmer, cover, and cook until the beans are tender, about 1 1/2 to 2 hours, stirring every 20 minutes. Taste for seasoning and serve with a lemon wedge.*For a faster soup, use 4 1/2 cups canned and rinsed cannellini beans (or other white beans), adding them with the scallions, and cooking for 30 minutes instead of 1 1/2 to 2 hours.*In India, a pinch of asafetida is often added to dishes with beans. Not only does it lend an elusive, garlic-onion flavor, but it also helps the body digest the beans. - Courtesy of Chef Suvir SaranThis bean soup is hearty, smoky and rich. Instead of using a chicken or vegetable stock, the flavor is built by frying the spices in oil before adding the vegetables, bacon and beans. When used together, the spices - red chiles, bay, cloves, cinnamon and peppercorns - act as the Indian version of a bouquet garni.