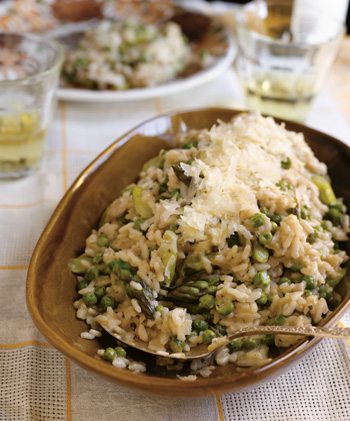 At Lucini Italia Co. we delight in sharing our love of authentic, fine foods through products like premium olive oil and a collection of recipes made to suit any taste. When it comes to dinner, we're big fans of fresh herbs and flavor-infused dishes. A vegetarian-friendly option is also a great choice!
Our Asparagus & Green Pea Risotto is so full of fresh flavor, it's sure to impress every guest. This stunning dish features a mouthwatering herbal Tarka made with real olive oil, which can be found in our
online shop
along with other premium olive oil. Loaded with herbs and vegetables, this dish is packed full of palate-pleasing tastes and sure to satisfy.
Your New Favorite Veggie Dish
Whether you're planning for a date night-in or your next dinner party, you'll want this recipe on your list. Made with fresh basil, rosemary, thyme, and Whole30 olive oil—this will please even the pickiest of eaters, and may just become your new favorite vegetable dish! See details below.
Recipe Summary
The herb tarka adds an Indian twist to this classic Italian favorite as well as plenty of flavor. Chef Saran recommends making a water-based stock of asparagus ends, Parmigiano rind and black peppercorns instead of a store-bought chicken or vegetable stock.Recipe Servings: 8 first course or 4 main course portionsRecipe Preparation Time: 20 minutesRecipe Cook Time: 60 minutes
Ingredients
For the tarka
2 tbsp unsalted butter2 tbsp Lucini® Premium Select Extra Virgin Olive Oil®1 tbsp finely chopped fresh basil1 tsp finely chopped fresh rosemary1 tsp finely chopped fresh thyme1/4 tsp freshly ground black pepper1/8 tsp red pepper flakes
For the risotto
2 lbs/910 g asparagus2 tsp kosher salt1 Parmigiano-Reggiano rind (optional), plus 1 cup/100 g finely grated Parmigiano-Reggiano cheese1 tsp coarsely ground pepper (optional), plus 1 tsp freshly ground black pepper6 tbsp/85 g unsalted butter1 medium red onion, finely chopped2 cups/200 g Arborio rice1/2 cup/120 ml dry white wine10-oz/280-g bag fresh or frozen green peasFinely chopped fresh basil for serving
Instructions
To make the tarka:
Melt the butter in a medium frying pan over medium heat. Add the olive oil, basil, rosemary, thyme, black pepper, and red pepper flakes. Cook, stirring often, until the mixture is fragrant, about 1 minute. Turn off the heat and set aside.
To make the risotto:
Snap off the tough ends of the asparagus and add them to a large soup pot. Slice the trimmed asparagus spears on the diagonal into 1-inch/2.5-cm lengths, leave the tips whole, and place both in a medium bowl and set aside.Pour 12 cups/2.85 L water over the asparagus ends and add 1 tsp of the salt and the Parmigiano-Reggiano rind (if using), and the coarsely ground pepper (if using). Bring the liquid to a boil over medium-high heat, reduce the heat to medium-low, cover, and gently simmer until the broth is fragrant, about 25 minutes. Strain the broth into a clean pot, cover to keep the broth warm, and discard the asparagus ends and the rind. (The broth can be made up to a week in advance; reheat before making the risotto.) You should have about 10 cups/2.35 L of broth.Melt the butter in a large heavy-bottomed pot over medium-high heat. Add the freshly ground pepper and cook, stirring often, until fragrant, about 30 seconds. Stir in the onion and 1/2 tsp salt and cook, stirring often, until the onion is translucent and soft, 1 1/2 to 2 minutes. Add the rice and cook, stirring often, until the grains are opaque, 1 1/2 to 2 minutes. Pour in the wine and cook, stirring often, until it is absorbed, 1 to 2 minutes. Reduce the heat to medium and add 1 cup/240 ml of the broth. Cook the risotto, stirring constantly, until the liquid is mostly absorbed (when you push a wooden spoon through the center of the pot, a trail should remain for 1 second before the rice comes back together), and then add another 1 cup/240 ml of warm broth. The rice will probably need about 2 minutes of cooking and stirring between each addition.Once you have added 5 cups/1.18 L broth total to the risotto (after about 10 minutes), add the sliced asparagus, asparagus tips, peas, and the remaining 1/2 tsp salt. You know the risotto is done when the rice is creamy, not mushy, the grains are plump yet separate, and the rice is cooked to an al dente doneness (there should be an opaque speck in the center of a grain of rice), after another three to five additions of broth and 8 to 10 more minutes. Turn off the heat. Add the tarka and 2 tbsp of the Parmigiano-Reggiano, stirring to combine. Spoon the risotto into serving bowls, shower with some fresh basil and Parmigiano-Reggiano, and serve.- Courtesy of Chef Suvir Saran